15 mangrove donation
5,00 €
A mangrove endow. Your endow of 15 mangroves helps us to continue our work at the open areas of the shore. A donation includes the purchase of seedlings, breeding at the Mama Earth farms and the planting of the mangroves
✓ Mangroves growing all year round in our local nurseries
✓ Confirmation of your donation
✓ The plantings activities are always possible
✓ Our monthly newsletter will inform you about our work
✓ We already planted more than 1.450.000 mangroves
Why are mangrove endows important?
Through a mangrove endow, you help the people and the strongly damaged nature. The Gulf of Davao forms a deep cut on the eastern side of the island of Mindanao (Philippines). Its water surface is twelve times larger than Lake Constance. This huge bay supplied more than three million people with eatable fish. But this is no longer possible due to different reasons. Thus, more than a decade ago, the mangroves were thoughtlessly cut down. But without the mangroves not only does the local biotope collapse, the spawning areas for fish are also getting thin. Support the afforestation with the purchase of mangroves. Thank you!
Your endnow of mangroves
A big step to support the productive ecosystem called mangroves. An intact mangrove belt not only provides breeding areas for fish, but also food for birds and reptiles, fish and crabs. At the same time, a mangrove belt protects the coral reefs and the shore from erosion. Strong storm tide waves are also reduced.
Find out more about our planting campaigns in our regular newsletter.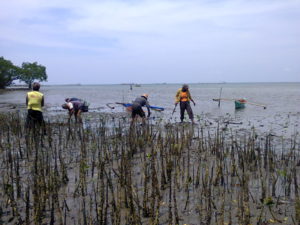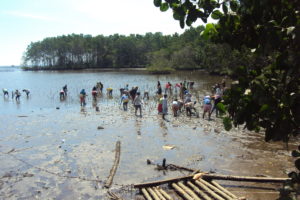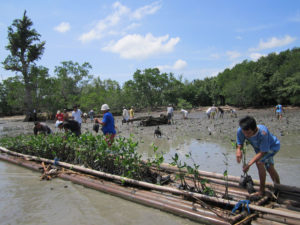 Only logged in customers who have purchased this product may leave a review.
HELP AND INVEST WITH GOOD CONSCIENCE
Mankind have managed to cut the number of the Earth's trees in half. To provide the growing population with food, fuel, living space and the ever-increasing demand for wood, about 15 billion trees get cut down each year.
You, as a consumer, decide how the world looks like with a choice of supported projects.
MAMA EARTH FOUNDATION
✓ Professional wood investment
✓ Afforestation of deforested lands
✓ Nearly 2,000,000 planted trees and mangroves
✓ State-approved foundation
✓ Ecological-social project support on-site
ADDRESS
Mama Earth Foundation, Inc.
Unit 1, 2nd Floor, Don Dionisio Complex
Cabaguio Ave., Agdao
Davao Stadt, 8000, Philippinen